Review: Mutant League Football
by eggmceye, 2001-06-01 15:08:17. No #739.
Mutant League Football is an American football game for Sega Megadrive/Genesis. Your team is comprised of monsters and features include deaths, unfathomable alien languages, awesome gfx, gameplay, nasty audibles including electrocute, bomb (you pass a hand-grenade instead of the ball) and rocket pack. Without doubt, this is the best american-football game evar - MLF fucking owns Madden by a mile. Anyway I don't feel like doing a review, just posting screenshots from my sega emulator.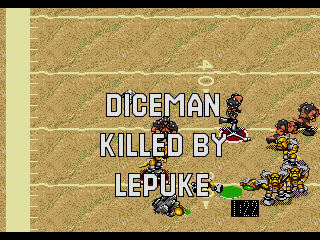 [ more info here ]
Thread closed.